I don't use blush that often, since I have yet to find the right shade and the right manner of applying it. The favourite one is the Revlon palette, bought for Rs100 at Bhavani. It has shimmer in it, so it can be used as a highlighter too. The other one (on the left hand side) has a strong payoff, no shimmer and cost only Rs53! But I need to use it with powder foundation since the colours are too strong.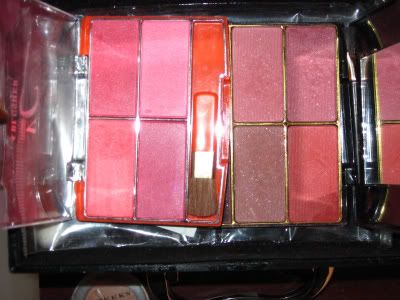 The ELF blush in Glow is the best one - it really has that effect, and most people notice it instantly. The one the left of ELF is part of a Color Institute set, it is nearly the same shade as my skin, so sometimes I use it under my eyes!

The tube on the right most side, is again, a part of the same shade, it's body glitter! The powder's really fine and reamins for hours. It comes in 2 shades - pink and whitish.